Different Waders for Different Waters
Stay cool, mobile, AND dry with the easy access –tried and true hip boot waders!

Not everybody of water calls for chest waders, and for those of you who (like myself) enjoy prospecting small mountain streams for native brook trout, ditching the chesties can mean more freedom of movement and a cooler, more comfortable day of fishing, regardless of the season.
For this article, I will take a look at multiple hip waders and dissect their pros and cons so that you can, as always, buy with confidence.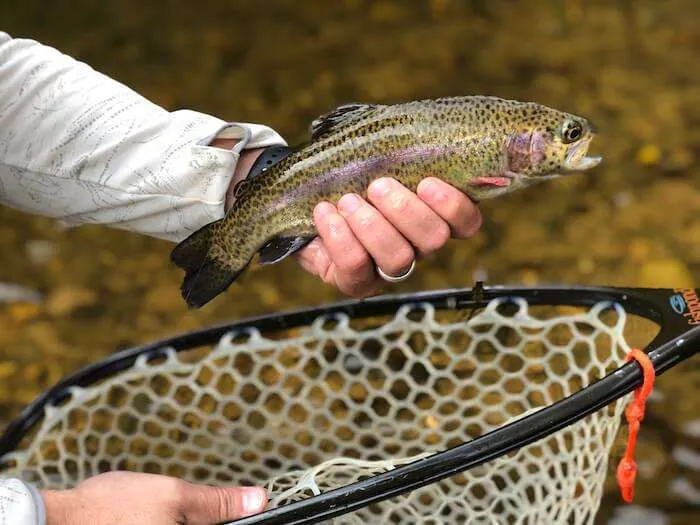 This review will cover:
Best hip boot waders for fishing (overall)
Best Budget hip waders for men & women
Uses for hip boot waders
What to look for in hip waders
Hip waders Vs. chest waders
Frequently asked questions
And much more!
Let's dive in!
---
Best Hip Waders For Fishing (Overall)
For Men & Women
Specifications:
Size 7-14
2-Ply Rubber and 300-denier Polyester Upper
Steel Shank in Rubber Boots
Adjustable Web Belt Leash With Locking Straps
Cleated Boot
The Cascades from Frogg Toggs are a great introductory pair of hip waders for the bank fisher that is looking to go a little deeper. They are a 100% polyester 2-ply hip wader with rubber boots at a very affordable price point and are perfect for those places in which you're unlikely to encounter water more than knee-high.
Frogg Toggs has multiple size options for a good fit regardless of height or weight, which is important when purchasing waders. These waders are well-reviewed by people other than fishermen, and they shine in environments prone to dampness and moisture.
Frogg Toggs stands behind its products and the return policy is good, so they're worth a shot, especially if you're looking to get a little further away from the bank.
Pros
Affordable
A great introductory pair of waders and an equally good light-use option.
Carries Frogg Toggs Warranty
Cons
These waders don't stand up well to being baked by the sun or frozen hard by the Winter's cold, so take care when storing them. They'll last a lot longer stored indoors and put away dry.
Some reviewers noted the manufacturer's issues with the seams right out of the box, but Frogg Toggs is easy to work with and will go above and beyond to make errors like this right.
(Rubber Bootfoot Waders for Men & Women)
Specifications:
Super Tough 3-Ply Canvas and Rubber Construction
Adjustable Belt Leash
Adjustable Hip Drawstring
Insulated Rubber Boots with Foam Cushioning
Cleated Outsole
Full disclosure, I own a pair of these and they are my go-to hip waders. I have used them to blaze trails to the water through briars, I've fallen down embankments that should have torn them to shreds, used them to crawl through the brush to get the jump on natives, and more.
The 3-Ply construction of these hip boots makes them incredibly tough and abrasion-resistant, and mine has lasted me four seasons of heavy use and counting. The insulated rubber boots are very useful when the water is cold, and the combination of the adjustable belt leash and buckles with the drawstrings ensures a tight fit that's comfortable and stays put well.
I can't recommend these enough, and they have served me well in all my mountain stream endeavors. Considering all this, and the very affordable price, they are worth more than a mention in this review.
Pros
Super tough 3-ply construction.
Very affordable price
Effective and functional for multi-season heavy use
Cons
Since they are heavier, they do get a bit warm, especially on the hike in and out.
Specifications:
100% Polyester
Lightweight and Breathable
4 MM Neoprene Stockingfoot
Integrated Gravel Guards
Elastic Wading Belt
These hip waders from Kylebooker are the first breathable example in this review. The integrated gravel guards work well to protect the 4 MM neoprene booties, but remember, you'll need a pair of wading boots to go along with these to get right out on the water.
That being said, the price of these hip waders is more than affordable, and if you already have a nice pair of wading boots, this lightweight option may be just what you're looking for.
Perfect for wading when the sun is out and the heat is on, these waders come with an elastic wading belt with quick-release buckles should disaster strike and you need to get out of them fast.
Pros
Great Price
Breathable for Summer Use
Gravel Guards and Wading Belt Included
Cons
Requires wading boots to get fishing
These straightforward hip boots from Caddis are an economic option for the fair-weather wader (or fisherman). Rubber and polyester are the main components of these waders, and if you utilize effective layering they work well in the winter.
The lug-style cleats on the attached boot work well on smooth rocks and they are abrasion resistant within reason. Caddis has made a name for itself by providing efficient introductory gear for the casual fly fisher, and these hip waders fit that bill well.
Pros
Affordable Price
Provide good traction in and out of the water
Cons
Although these are touted as all-weather capable, rubber gets cold fast and can be quite warm in the heat.
The reviewers who purchased these waders had problems getting multiple seasons out of them, but I do believe a lot of this has to do with improper storage.
Specifications:
100 % Waterproof
Cleated Boot-Foot
Rubber Sole
Air-Grip Outsole
600 g Thinsulate for Cold Climates
Nylon Lining
Adjustable Internal Calf Harness to Ensure Fit
The Insulated Storm 31s from Lacrosse is able to walk the hunting and fishing worlds simultaneously. Regardless of what you use them for, these are good hip waders.
100% waterproof and made with high-tech, durable rubber on the outer, these waders can withstand both briars and rocks without pinholes. The boot foot is cleated, and there is no felt option. However, the outsole has been reviewed as effective on rocks and mud both in and out of the water.
While I myself was not familiar with Lacrosse, many satisfied customers have a lot of brand loyalty to this company, and that's always a good sign. These hip waders were built for cold water and cold weather with 600 g Thinsulate added, and a tough inner nylon lining that's durable and rugged.
The internal calf harness can be adjusted for the perfect fit, making these hip waders both comfortable and reliable, regardless of your particular outdoors endeavor.
Pros
Heavy-duty componentry focused on withstanding whatever colder temperatures have to offer to make these hip waders perfect for the cold water climates that trout love
Resistant to abrasions, punctures, and more
Cons
None. There's a reason Lacrosse has such a good reputation, and that only comes from producing consistently good products. Recommended
Best Hip Waders for the Money
Here are a few selections for hip boot waders that offer exceptional performance on the water at a more economical price.
Specifications:
2-Ply Upper Construction with 'Waterproof Membrane'
Size 7-13
Belt Loop and Takeup Strap
Cleated Boot
These hip waders from Allen Black are super affordable, but the quality does reflect the price in many of the reviews that I've read online.
For the people that know what they want out of their hip boots, there are not many complaints here, and gardeners, landscapers, and others find value in these waders simply because they are more affordable and easy on the wallet to replace when they wear out.
Some reviewers who were admittedly hard on waders said that these boots were still valuable to them because even with replacing them as frequently as once a month they still worked out to be a better value than more costly hip waders.
These are a great choice for a backup pair of hip waders to have at the ready should a fishing opportunity come about that you just can't miss.
Pros
Super Affordable
Straightforward and functional

Cons
The consensus about these waders is that they typically don't last more than one season, and that's not for everyone.
Specifications:
Light and Tough Proprietary Material
Wade-Lite Comfort-Fit Boots
Warmer and more forgiving than rubber hip waders
I know the name Hodgman well, and I have been a happy customer of their neoprene chest waders for a few years running. Their Redstone model hip waders are an affordable and durable answer for those of us that need hip waders on a budget.
These are not made out of neoprene, although that's what they may look like at first glance. Instead, they are constructed from a synthetic blend of materials from Hodgman that are lighter than full rubber hip boots.
Duck hunters and fishermen alike had positive things to say about these hip waders, and at this price, it's not hard to understand why.
Pros
It doesn't get much easier on the wallet than this
Light and forgiving, a good middle-ground between rubber hip waders and canvas.
Cons
I will say again that what you lose in weight you also usually sacrifice in durability as far as waders are concerned.
The consensus on these is that they fit small, so size accordingly.
Specifications:
420 Denier Nylon Coated in PVC
Wear Resistant and Anti-Slip
Cleated Bootfoot
Surprisingly, compared to some of the other hip waders for the money, these boots from Magreel had many reviews, and most of them were very positive. Magreel is another affordable outfitting company designed to get you fishing faster and for less.
User reviews are favorable whether these waders were reviewed for use in Alaska or Ecuador, and that was refreshing to see. I think these waders are a more realistic all-weather waders than a few of the other models I've reviewed.
They are tough but remain flexible, and the thigh is wide enough to accommodate various heights, weights, and body types.
Pros
Still very affordable
Better user reviews than many of the other budget hip waders in this review
Adjustable thigh
Cons
Other than a few common manufacturer's errors out of the box (crotch seam separation etc) these waders were well-reviewed and they seem like a good choice relative to the low price.
Sometimes the waters we fish are small enough to make full chest waders overkill. High mountain streams and brooks can sometimes be crossed with shin-length rubbers.
When I fish for native brook trout in Pennsylvania, I use hip boots. Foxelli hip waders are a great example of water protection that can be used all day without uncomfortable heat and sweat.
Quality materials are crucial because fishing for natives sometimes makes the angler approach the pocket water they intend to fish carefully and with finesse.
Features/Specification
420 D Nylon

One year warranty

Camo Pattern
Uses for Hip Boots
I prefer hip boots when planning on tackling high mountain streams, and when frequent crisscrossing of the water is necessary. I've found that in these streams, hip waders are usually adequate at keeping me dry and comfortable even in Summer's heat.
Aside from blue-lining, hip boots work well in water that you know, to approach the sides of deep runs. I don't recommend them in deep streams and small rivers that you are very unfamiliar with, simply because it's easy to wander into water that's too deep after trout you just can't reach with your fly.
I know this because I am guilty of it! Hip boots can become very dangerous when used in places where chest waders are necessary, so familiarity with where you are fishing is important. Also, I must admit I am guilty of trailblazing and bushwhacking to get to areas of the water that I couldn't get to otherwise.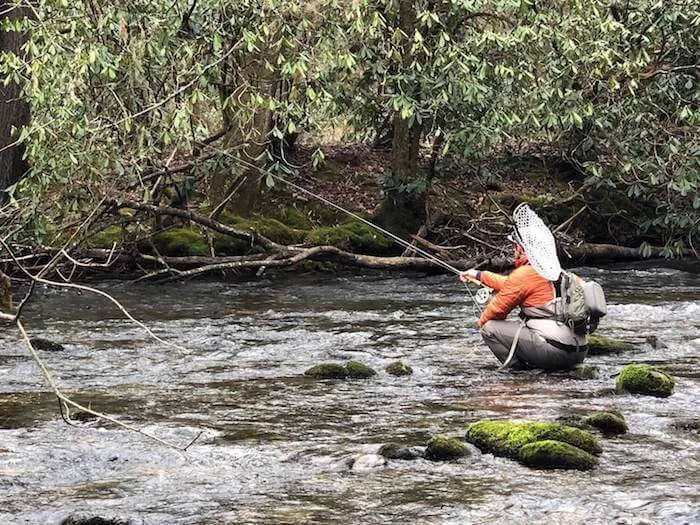 Chest waders, especially the light and breathable kind, seem to magically be able to find every thorn, bramble, and snag when engaged in this behavior.
Hip waders (especially the Bull Frogg model from Frogg Toggs that I am so fond of stand up well to these obstacles, and can help you make a stealthy approach to pocket water on your knees. The uses of hip waders depend on the kind of fishing you're doing, but I do find them very useful to have on hand.
What to Look for in Hip Waders
One of the first things to look for in hip waders is the material used to construct them. Many anglers seem to either love or hate all rubberized hip waders, with very few in the middle on this issue. Tough PVC or rubber works well in the field, but problems arise when waders made with this material aren't stored correctly.
When used hard and put away wet, rubber waders tend to crack and leak like a sieve. The temperature has this effect on them as well, and one off-season stored in a garage with a freezing Winter and subsequent hot Summer can doom your rubber hip waders faster than you could wear them out through use.
To avoid this, try not to expose your hip waders to extreme temperatures, whether that's in your truck, in your garage, or in your storage shed.
Another thing to look for in hip waders is a good fit. Having to constantly readjust your waders is a nightmare, whether you have the chest or hip variety, so trying a new pair on in person is highly recommended over buying blind. I've tried to include what I could find about each various brand's particular sizing, but do some research, especially if you're buying online.
Hip Waders Vs. Other Wading Gear
It's no secret that I spend most of the fishing season in chest waders. This is because I fish in larger creeks, rivers, and the Susquehannah. It's very easy to take a wrong step into a hole that's much deeper than it was last year, and for this reason, alone chest waders are safer and create some much-needed peace of mind.
In short, the deeper the water, the less apt I am to go with the hip waders. However, my hip waders are not solely for creek hopping and small stream fishing. I am more than acquainted with the Bald Eagle, and there are many areas that I have ingrained into my memory.
That being said, there are ample spots that I can (and do) fish with just hip waders, especially if the water is low and the temperature is high to be in neoprene all day.
Whether to use chest or hip waders on a particular day of fishing will come down to the water conditions, and then how well you know the water that you're fishing. Again, I would not recommend hip waders for exploratory missions into the water you're unfamiliar with or have only fished a few times.
Frequently Asked Questions
---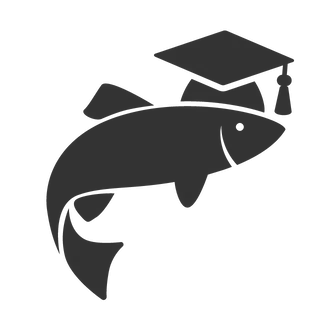 Q: Do I need special boots for hip waders?
A:  Not usually. You will only need wading boots for hip waders if you purchase a stockingfoot model, and the only stockingfoot waders I have included in this review are the Kylebooker hip waders. Normally, hip waders have a booted foot that is usually made of rubber and can be used right out of the box.
Q: How to size hip waders?
A: The two areas that are most critical when sizing hip waders are the boot foot and the thigh. Thankfully, hip waders are a tad more forgiving of a less-than-perfect fit than neoprene chest waders, and the included belt leash and thigh straps on some models can make all the difference in getting them to stay on your legs and fit better.
Pay special attention to how wide the thighs are and note the user reviews of the particular fit of the rubber boots because they can vary from brand to brand.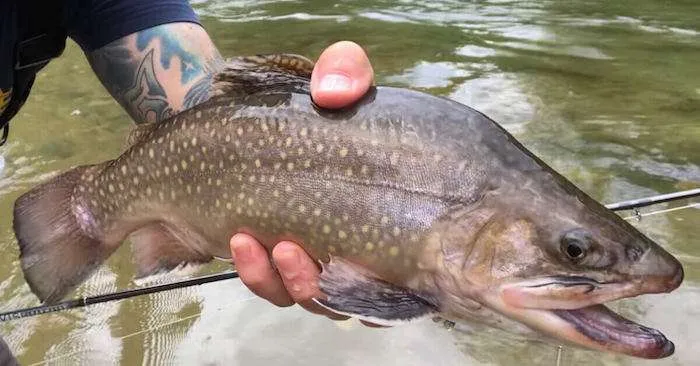 Q: What material are hip waders made from?
A: There are many different materials present in modern hip waders. I am particularly fond of canvas and rubber, but there are numerous rubber or PVC types.
There are also some breathable waders in this review that utilize nylon and blended polyester in an attempt to cut down on internal moisture and heat on Summer days.
Much like chest waders, many materials are being used in hip waders by different companies for many varying fishing applications.
Q: Are hip waders enough for fly fishing?
A: The short answer is yes! Yes, they are. But safety should take precedence over overreaching that riffle or tempting hole that might be just a few feet further offshore than you can safely wade out to.
Hip waders are easier to get into and out of than chest waders and oftentimes much more comfortable. They are most certainly enough for fly fishing.
Having a good pair of hip boots is a necessity for me because every year I eventually make my way to higher elevations in search of a more colorful kind of trout. Hip waders make these trips more comfortable and I end up fishing longer because I have the right tool for the job.
Hip waders are just that–a particular tool for specific fishing applications. Even in bigger water, they can get you off the bank far enough for more effective casting. Consider picking up a pair to try out this coming Spring so you can gauge their effectiveness for the type of fishing that you like.
You really can't go wrong with the prices of the hip waders in this review. Remember, be safe always, and tight lines.