"A Scalpel in a World of Hatchets"
I love fishing big water for multiple species of fish, but blue lines and mountain streams will always hold a special place in my heart, mostly because these narrow streams were where I first began using a fly rod at 13 years old.
This review is all about fly rods that were designed for these environments, where the casting can get technical quickly, and numerous obstacles often complicate getting your fly where it needs to be.
The rods in this review might be on the shorter side, but for high mountain streams, that's exactly what you need to bring fish to the net.
In this article, we'll explore
Best Fly Rods for small streams (overall)
Best small stream fly rods for the money)
Why and when to use a smaller fly rod
Applications for different rod lengths
Frequently asked questions
Let's get into this!
Best Small Stream Fly Rods (Overall)
I've had the pleasure of reviewing numerous Sage products with Anchor Fly, but this company has really hit a home run with the Dart.
This rod series was designed with high mountain streams in mind. The Dart is available in 7'6 lengths from 0w up to 4w, and there is an even shorter 6'6 model available in a 3w.
These rods were made for environments that are laden with brush and overhang, with a fast action to make subtle presentations of even the smallest dry fly patterns.
The KonneticHD blank, using Sage's proprietary resin and graphite blend, is incredibly light and durable. These rods weigh almost nothing! The super light overall weights of these fly rods is incredibly impressive, and make them perfect for dry flies and small, lightweight nymphs.
The Specs
3-Piece Rod Series
Overall Weights and Lengths

7'6 0w – 1.72 oz
7'6 1w – 1.88 oz
7'6 2w – 1.94 oz
7'6 3w – 2.06 oz
7'6 4w – 2.5 oz
6'6 3w – 1.69 oz

KonneticHD Graphite Blank
Fast Action
Fuji Ceramic Stripping Guides
Ultra Light Hard-Chrome Snake Guides
Uplocking Bronze Anodized Reel Seat with Vera Wood Insert
Snub-Nose Half Wells
Powder Coated Aluminum Rod Tube
Sage Lifetime Warranty
Sage has put a lot of thought and effort into designing a small stream rod that just works. The Dart is a precision instrument, and the glowing reviews of this rod series are where I gleaned the title of this review. A now-devoted fan of the Dart poetically reviewed this rod series (specifically the 7'6 4w) as "a scalpel among hatchets." I couldn't have summed up the Dart any better myself.
Pros
Purposefully designed for small stream use
Incredibly light
Fast action for accurate presentations
Cons
---
Thomas and Thomas make fly rods that I and many others consider "legacy pieces." Excellent componentry and thoughtful design are what make T&T rods stand out from the rest. The Lotic series from Thomas and Thomas is their foray into fiberglass, in smaller sizes that are meant for smaller water.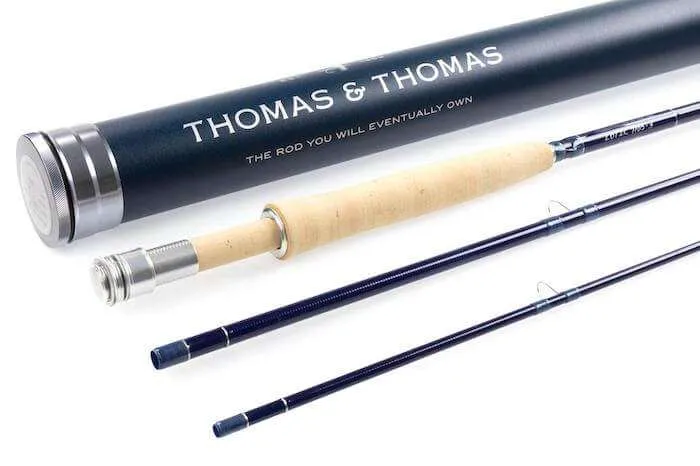 The Specs
3-Piece
Overall Weights and Lengths

6'10 3w – 2.68 oz
7'4 4w – 2.93 oz
7'10 5w – 3.14 oz

Advanced Fiberglass Blank
Medium Action
ECOating Snake Guides
Bright Milled Aluminum Up-Locking Reel Seat, with Cork Spacer
Reversed Half Wells
Aluminum Rod Tube
T&T Lifetime Warranty
The T&T Lotic fly rods have a more forgiving medium action, and a softer tip that protects delicate dry fly tippets well. These rods are still incredibly light and sensitive, and more than capable of great fly presentation in tough conditions.
I've reviewed T&T products before here at Anchor Fly and they always come to the table with products that are as functional as they are aesthetically pleasing. This rod is glowingly reviewed for use while backpacking, hiking, and camping. 
Pros
Incredibly light
Forgiving medium action
Cons
---
This is probably my favorite rod series in this review. Scott fly rods hail from Montrose Colorado, and these handcrafted rods are equal parts legacy piece and functional, reliable tools, especially for small water applications.
Fiberglass rods predate graphite/graphene, and Scott has been intimately familiar with fiberglass rod construction since the beginning. The F series from Scott is a perfect synthesis of tradition and modernity. This is not your Grandpa's fiberglass rod you pulled out of the attic rafters (though it does look like it!!).
The proprietary E Glass blank from Scott is both durable and sensitive, utilizing a unidirectional glass and epoxy composite that Scott accurately describes as "Pure fun."
The Specs
4-Piece and 5-Piece Models
Overall Weights and Lengths

5'8 3w– 1.7 oz
6'2 2w– 1.7 oz
6'6 3w– 2.3 oz
7'2 3w–2.6 oz
7'2 4w– 2.7 oz

Proprietary E-Glass Blank
Moderate Action
Universal Snake Guides
Fuji SiC Stripping Guides Set in a Titanium Frame
Reel Seat is a Slide Band Over Cork
Cigar Shaped Cork Handle/Reversed Half Wells
Aluminum Rod Tube
Scott Lifetime Warranty
The F series is super light, with a full flex and traditional moderate action, for soft, smooth casts that excel at twenty feet and under, making this rod excel at places where longer casts are unnecessary. Where there is brush, overhang, or other obstacles, the F series really shines. Scott has gone the distance with their redesigned hollow internal ferrules, which cut down on weight and work well with a slimmer taper to allow for even better line control when casting short. This rod can throw a loop at ten feet, which is incredibly impressive and useful for small-stream use. 
The smaller rods in this series utilize a traditional slide band over a cigar-shaped cork handle, giving them a truly classic look and feel. The heavier rods in the series have a more modern uplocking reel seat. The naturally finished, unsanded blank works well with these classic components to create a rod that is as aesthetically pleasing as it is functional. Scott knows fly rods, and Scott knows fiberglass. This is a fantastic rod for the creeks and brooks that hold smaller fish. Check this out.
Pros
Quality design and componentry
Classic look and feel, modern durability, and functionality
Aesthetically impressive
Cons
Specialized for short casting and small water
Douglas is another company I love writing about, and they pride themselves on creating functional products for the newly initiated and veteran fly fisher alike.
The LRS series of rods from Douglas is their mid-tier offering, and the shorter rods in this series work well for small streams, springs, and brooks. The multi-modulus blanks used in this series have a snappier action than some of the other rods reviewed above, but they are not so fast that they are inaccessible to those just beginning to learn how to cast. 
The Specs
4-Piece
Overall Weights and Lengths

7'6 4w– 2.7 oz
8'6 5w– 2.9 oz

Multi-Modulus Blank
Medium/Fast Action
Nickel-Finished Stripping Guides
Hard Chrome Snake Guides
Carbon Reel Seat with Uplocking Component
Cordura Rod Tube
Douglas Original Owner Lifetime Warranty
Douglas has created a great mid-tier rod series that balances affordability with modern features ( uplocking reel seat, Cordura rod tube, nickel-finished snake guides) to create a functional and durable short rod. The lighter models allow for a great presentation of light flies and ample tippet protection. If you're thinking of grabbing another rod for lighter use in pursuit of smaller fish, these rods check all those boxes.
Pros
Solid mid-tier offering from Douglas
Medium/Fast Action
Great all-around rod series
Cons
---
Best Small Stream Fly Rods for the Money
---
Redington makes purposefully functional, reliable gear that won't break the bank, and their Classic Trout fly rod series exemplifies these core tenets well.
The Specs
4-Piece (Some Models in a 6-Piece)
Overall Weights and Lengths
Toray Graphite Blank
Moderate Action
Titanium Oxide Stripping Guides
Uplocking Rosewood Reel Insert
Ballistic Nylon Rod Tube
Redington Lifetime Warranty
The Redington Classic Trout is a warmly reviewed rod series, but the lighter models are fantastic options for small-stream use. Toray graphite is light and durable, but the action of this rod is not super fast like some other graphite rods. Moderate action helps to reduce fatigue and is more forgiving for those that are learning to cast.
This is a rod series that is as effective as a backup rod as it is your daily driver for small streams.
Pros
Light and accurate
Accessible for the beginner
Cons
---
This rod from Eagle Claw is not talked about enough. I own one, my peers have one, either in the trunk of the car or in the garage, and a lot of kids wet their first fly with this rod, due to its extremely approachable price point and forgiving, slower action.
The Specs
2 Piece 6'6 3/4w Fly Rod
Fiberglass Blank
Slow/Moderate Action
Stainless Steel Guides
Cork Handle
1 Year Warranty
Whether it's small streams or panfish ponds, this rod, with its signature yellow fiberglass blank and cork handle, can handle it all. The reviews of this rod from veteran tackle company Eagle Claw are all absolutely positive–people have nothing but good things to say about this fly rod.
There's no rod tube, and no super exotic materials or componentry, but this is a rod that all of us should have in reserve due to its durability and barebones functionality.
I have used this rod to make accurate casts of over 50 feet, and a more skilled fly caster could definitely go further. That kind of distance will never be needed on the small streams this rod was intended for, but it can go the distance.
Great from a kayak, great from the bank, I can't gush over this rod quite enough. Go get one!
Pros
Economic price
Reliable
Durable
Beginner Friendly
Cons
---
I am more than familiar with Echo, and the quality gear they produce. This rod is a perfect starter kit for people getting into the hobby, but it's just as effective when fishing high mountain streams or farm ponds teeming with bluegill.
The Specs
Overall Lengths and Weights

7'6 3w–3.1 oz
8' 4w –3.4 oz

Medium/Fast Action
Chrome Guides
Cork Grip (Reversed Half Wells)
Black Anodized Reel Seat
Rod Case and Sock
You get it all with this series, rod tube included, at a competitive price. This rod sports a snappier action than some of the other rods in this review, but that makes it no less effective.
The Lift is a great way to get used to the faster action of most graphite rods on the market. The lighter models in this series are perfect for tight corners and short casts.
Pros
Medium/Fast Action
Useful at any skill level, but great for the beginner
Competitive Pricing
Cons
---
Why and When to Use a Shorter Fly Rod
I am a blue-liner at heart. Small streams with tons of overhang and obstacles (twigs, deadfalls, vines, rocks) make it a challenge to get your fly to where it needs to be when fishing a small stream. Trying to navigate a 9' 5w in these already tight, technical situations can make for a very frustrating outing. Shorter rods excel in places that don't require casts of over 20 feet but do require accurate presentations of smaller flies. These conditions are all present when fishing small creeks and feeder streams, so naturally, short rods shine when used here.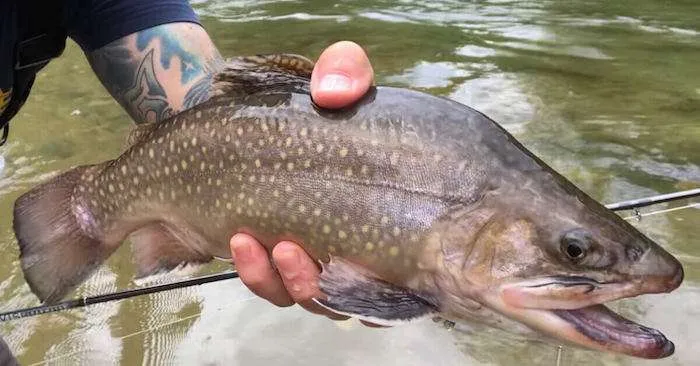 Applications for Different Rod Lengths
Two lengths that you will see over and over again in this review are 7'6 models, as well as 8' models, usually in 3w and 4w respectively. 7'6 models (and shorter) are great for presenting small nymphs and dry flies into pocket water, at short distances (10-30 feet). 8' 4w models are perfect for throwing dries and getting the correct presentation. While this is the norm, I know plenty of my peers like to nymph with an 8' rod, so in reality you're only limited by your skill level as to how you can fish with these rods. If you're just starting out, I recommend starting with a 7'6 model rod, because this length is very versatile and can do a bit of everything.
Frequently Asked Questions
Q: What are the major differences between graphite and fiberglass rods when "blue-lining," or fishing smaller water?
A: A whole article could be written on this question itself, but the short answer is that graphite is in general lighter, with a faster action. Fiberglass has a slower action and can be heavier. Graphite is known to be a bit brittle and fiberglass is a little more forgiving and durable. I find when fishing water that has numerous obstacles and obstructions, a fiberglass rod can stand up to these obstructions better, but it's really a matter of taste.
Q: What fly line is best for use on small streams?
A: I have always fished small streams with floating lines. It enables me to drift nymphs downstream, like live bait, but also to float a dry fly effectively when casting upstream. The versatility of the floating line is a big plus. 
Reeling it in
If you've never fished a mountain stream, I highly recommend it. This type of fishing is not for everyone, requiring a technical and thoughtful approach. Short casts to spooky native fish are not easy, but short rods make this endeavor much more manageable There are some cracking good rods in this review, and I hope you consider them if you're looking for a rod for serious small stream use. Other rods in this review can act as both a reliable backup and a great rod for smaller fish. See what the short rod thing is all about and give one of these rods a shot. You might just like it! Tight lines as always!