Suitable Line for the Toughest Ditch Pickle
Bass are big, heavy, predatory fish, and these qualities make them super fun to pursue on the fly. If you're going after largemouths or smallmouths, there's a fly line out there that is designed for the heavier rods and more air-resistant flies and streamers used when bass fishing.
A good fly line can make even a less than satisfactory rod capable of handling the powerful runs and deep digs of bass and other big species of freshwater fish.
In this review, I'm going to take a look at some of the best bass fly lines on the market and break down the pros and cons of each so that you can, as always, buy with confidence.
This article will cover:
The best bass fly line (overall)
The best bass fly line for the money
What to look for in bass fly line
Types of bass fly line
Frequently asked questions
And much more!
Let's get started!
---
Best Fly Line for Bass (Overall)
Features/Specifications:
Revolutionary AST Plus Slickness Additive
Proprietary Floating Tip Section
WF6F–WF9F
Warm Weather Coating
Braided Multifilament Core
Scientific Anglers has a ton of highly reviewed and beloved fly lines. They are committed to quality and performance, and this is easily observable in their products. The SA Amplitude Bass Bug fly line was designed specifically with big, air-resistant flies in mind.
Whether that's big Chernobyls or articulated game changers and sculpins, this is a great line to throw those bigger bugs and streamers that drive bass nuts. Scientific Angler's slickness additive is startlingly smooth, making it great for shooting and easy on the hands for stripped retrieves.
The tip section was engineered to float, even if your fly is sinking like a stone, and this line is great for those long casts necessary to reach even the spookiest bass.
Pros
This line is designed for hot climates and long casts, everything you need a bass line to do. This fly line will easily turn over those big streamers you have in your box
The slickness additive is impressive and increases shooting distance and aids in longer casts
Cons
This line was purposefully designed for chasing bass. There's nothing negative to say about it, but it is expensive
Features/Specifications:
RIO Slickness Additive
Heavy Front Taper for Turning Over Poppers
WF6F-WF9F
Warm Weather Additive
I love fly fishing for smallmouth bass on the Susquehannah. These fish are on par with the trout I know and love to pursue in tailwaters, large creeks, etc.
I love catching them. That being said, this fly line from Rio seemed to be perfect for loading up a 7wt fiberglass rod and getting to work straight away on pulling some bronzebacks out of my local waters. On closer inspection, there are quite a few issues that many fly fishers continue to have with this specific fly line from Rio.
The reviews of this line are less than satisfactory–with fraying, cracking, and a warm-weather additive that couldn't hack one season of fishing scummy water. I will say, while this could have been a bad batch from the manufacturer, I would still buy this line with caution.
The reason this line is still on the 'Best Overall' list is that, despite the negative reviews about this line, there are some satisfied customers who are loyal to using it for smallmouth endeavors. This leads me to believe that the majority of the negative reviews regarding this line were from one bad batch from the manufacturer.
Pros
A great shooting line, even when customers noted some fraying out of the box
Affordable
Good head taper, able to turn over bigger flies at longer distances
Cons
The negative reviews of this fly line are a cause for alarm. No one wants to buy a line that's frayed right out of the box
Features/Specifications:
Proprietary Dirt-Repellant Polymer
Aggressive Head Taper for Big Flies
Ridge Tech
Low Memory
This fly line is rated for both bass and musky, which is impressive in my opinion. This line was designed for debris-filled ponds and rivers, and the dirt-repellent polymer used in its construction provides added durability, even when you're fishing less than gin-clear water.
The taper of this fly line is conducive for throwing big poppers and the largest of streamers, articulated or not. The proprietary Ridge Tech used on this line (parallel-running ridges) makes this line excel at shooting and provides minimal stretch, even on BIG fish.
This is a versatile fly line meant for big fish, less than desirable water quality, and big flies.
Pros
The dirt-repellant polymer used in the construction of this line is a big plus. Fishing for bass and musky often means fishing in hot, debris-filled water, and that can spell disaster for fly lines, and Airflo has addressed this problem well
This fly line can turn over big predator flies. The fact that it is rated for both bass and muskie adds to its versatility.
Cons
None! If you're trying to catch big fish on the fly, this is a very agreeable fly line. The proof is in the reviews, and in the purposeful design of this top-tier fly line
Check Out Our Other Fly Line Related Articles:
---
Best Bass Fly Line for the Money
We wanted to offer two bass fly lines that are excellent choices for those wanting to save some money.
Features/Specifications:
WF6F-WF10F
Warm Water Coating
Memory Free Core (No Coils)
Aggressive Taper
This is Rio's economy bass line, and it is ruthlessly efficient for big fish. Heavier and with an aggressive taper, this floating line was designed with the novice in mind. The relatively shorter (and heavier) head makes for easy casting, even with those big muskie flies on the end of your leader.
The memory-free core is a plus, and this feature is reviewed well and consistently by satisfied customers. At this low price point, you can afford to take a chance on this product from Rio, especially if you're new to bass or muskie on the fly.
Pros
As far as fly lines go, this is more than affordable
Great for hot climates that are filled with debris, like ponds and pressured rivers
Very resistant to memory, and very user friendly
Cons
None! This fly line from Rio is reviewed very well and it's all there at a reasonable price – Highly recommended
Features/Specifications:
WF7F-WF8F
Heavy Taper to Accommodate Big Flies
High-Vis Aircel Yellow
Cold/Moderate Temp
Powerful and User Friendly
Scientific Anglers has designed a bass line with a heavy taper, meant for 7 and 8 wt rods, that can sling big bass bugs just as far and as accurately as some of the more expensive brands.
There are no frills here, this fly line was built to be a catch-all bass line, just as effective throwing stoneflies as it is articulated flies and big streamers.
This makes the line versatile, and suitable for a multitude of fishing applications. Bass will hit dry flies too, and having a fly line that can deliver these bugs to your target area as well as the bigger flies is a big plus. This line is great for the beginner.
Pros
This is a great price for a fly line.
The heavy taper makes this line accurate and capable of turning over heavy flies.
A great line for the beginner and a fantastic backup line for a second rod and reel
Cons
There are a lot of great attributes to this SA brand line. One caveat to this is that it is rated for moderated temperatures at best. Bass fishing is often done during some of the hottest months, so heat resistance is a must
---
Types of Bass Line
Here, I'm going to do a quick run-down of different types of bass fly lines and the unique properties and fishing applications that they have.
Level Line – This type of fly line has no taper, and most often floats. Those of you, who, like myself, do not have a fly shop nearby, will probably be familiar with this type of line because it's always in stock at Walmart. Not having a taper means that this line is supremely affordable, but lacks the extra features that other brands have.
Still, if you need to get your 7wt loaded with line quickly (like the night before an outing) or on the cheap, this line will work for bass fishing, load the appropriate weight line with your rod and reel combo.
Weight Forward – This type of line is designed with a taper on the head and enables more accurate casts and presentation.
Most fly fishers will be acquainted with weight-forward style fly line because it is very versatile and is often employed on lighter rod and reel setups.
A weight forward line more readily turns over your leader and fly, and this is important when it comes to the bass line because of the tendency to use heavier and sometimes less-than-aerodynamic flies in pursuit of bass.
Sinking Line – When a bass isn't sucking big bugs off the surface, they can be found bedded down deep, usually under a structure where they can wait to ambush schools of minnows and other forage.
To get your streamer where it needs to be, a sinking line can be employed to get those flies where they can be seen. While this line tends to be a little more expensive than those above, it can be supremely useful when the water's high and fast, and also when visibility is low.
This type of line is great for throwing sculpins, game-changers, and any streamers.
Shooting Head Line – This type of line has a short, heavy head section that makes this line perfect for casting far too big heavy fish. Often seen employed in salmon and steelhead fishing, this type of line works just as well for bass (and Muskie).
While casting this type of line may take some getting used to because a very thin running line is used to increase distance and reduce friction, it is still a potent weapon when fishing big rivers for bass.
---
How to Choose the Right Line for Bass
The first thing to consider when choosing a bass fly line that's right for you is where and how you'll be fishing for these impressive, aggressive fish. I must admit I tend to be a streamer guy when it comes to bass.
To get these bigger flies down where bass tend to be laying, a sinking line works wonders for me. However, a good weight forward floating line will work also and is capable of long, precise casts, even when using fluffy, air-resistant floating flies like big grasshoppers, muddler minnows, and mice.
Consider the weight and construction of the flies you plan to throw and buy a line that will accommodate their characteristics.
Another thing to consider when choosing a line that's right for you is the type of water you're going to be fishing. Often, bass resides in dirty, murky water rife with weeds and other aquatic plant life.
Sometimes sinking lines can complicate fishing in debris-filled waterways because they can get stuck and drag amongst weeds and brush.
Whatever line you choose, make sure you maintain and clean it properly after each outing, and also, make sure it can withstand the heat that comes with fishing for bass in the summer months.
Frequently Asked Questions
Q: I fish ponds for bass, and the algae and brush dirty my line quickly. How can I prevent this?
A: For longevity and functionality, consider a fly line additive to repel debris.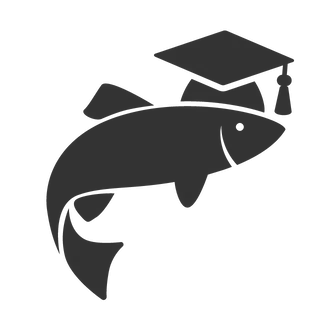 These are numerous and every fly shop seems to have its own proprietary blend to add to your fly line to keep it clean and reduce friction. Don't forget to keep your reel clean too!
Q: What kind of leader is appropriate for bass fishing?
A: I use a tapered 12-pound monofilament leader on WF7 line for bass. This might seem like overkill, but often I will have to free my fly from weeds, lily pads, and other obstacles, and bass flies tend to be bigger and take more time to tie and cost more money to buy.
Losing them is a real tragedy. However, some of my peers are committed to staying as light as possible as far as tackle goes and use six-pound tapered mono to great effect.
---
Conclusion/Reeling It In
Bass on the fly is just plain fun. I also think that bass is a great stepping-stone to learning how to cast and retrieve for bigger fish, like pike and muskie.
Even if you don't plan on pursuing bigger fish than bass, learning how to properly cast bigger flies with heavier rods and lines can prepare you for other heavy fish (like salmon and steelhead).
Try out a few of these lines on bass and you might love it enough to consider trying for other fish in this weight category. Good luck this summer, and as always, stay safe and tight lines!
Related Reading: