Sometimes you Go Light
From the boat to the river it is wise for anglers to assess their gear and make changes to match the weather. Proper footwear is of the utmost importance to those of us who spend a lot of time on the water. In warmer seasons it can be a breath of fresh air to scale down.
Things like blisters and athlete's foot are real problems that, if not addressed, can keep us off the water and nursing our wounds during prime-time fishing season. Having a reliable pair of fishing sandals makes for comfortable, safer wet-wading, and can also give your feet a break from neoprene booties and wading shoes.
In this review, I'm going to look at some of the best fishing sandals on the market that were made with the angler in mind and examine their pros, and cons.
This guide will include:
Best fishing sandals (overall)
Best waterproof sandals for the money
Best fishing flip flops
What to look for in fishing sandals?
Differences between fishing sandals
Frequently asked questions
And much more!
Let's get started!
Best Fly Fishing Sandals Overall
These are our top picks for the best fishing sandals. You'll be able to fish in comfort during those warmer months.
Features/Specifications:
Size 7-14 With Some Half Sizes
Plastic Buckle Closure
Lightweight EVA-Foam Midsole
Nylon Shank
Rugged Spider Rubber Outsole Designed for Wet Conditions
Quick Drying Synthetic Upper
Teva is a sports brand that has many loyal customers, and that usually signifies quality and functionality in outdoor products. The men's Omnium 2 Sandals are a great offering from Teva. They come in a wide range of sizes, with some half-sizes included.
Women who reviewed these products have said that the lower sizes fit well, and they aren't incredibly wide, meaning there's some good unisex crossover with these sandals. The plastic buckle closure means you can get into and out of these sandals quickly, and they were made for wet environments.
The nylon shank provides good stability, and these sandals work just as well on the trail as they do in knee-deep water. The tread works well on slippery rocks, and the outsole can handle abrasion well. These sandals are reviewed well by day hikers and fly fishers alike, and that's why they're at the top of the "best overall" list.
Pros
Purposefully built for a wide range of outdoors applications
A suitable option for wet wading and for use on the trail
A fair price for these well-designed sandals
Cons
Loyal fans of the Teva brand did review these sandals as less than impressive when compared to the original Omniums, but I would wager that a newcomer to this type of footwear will still find these a great first purchase.
Features/Specifications:
Size 7-14 with Some Half Sizes
Vibram Idrogrip Rubber Outsole
Synthetic Leather Upper
Open Upper Sheds Debris
Elastic Cord Lock Closure
Right Angle Footbed
Molded Rubber Toe Protector
Neoprene Lining for Comfort
Simms is a company that is renowned for making "guide quality" products that can withstand the constant use and abuse of the people that can get you on that trophy fish.
The Confluence Wet Wading sandals were designed with fishing in mind. Using Simms proprietary Vibram Idrogrip rubber, these sandals are great for sliding over mossy rocks and uneven creek beds.
The molded rubber toe protector works great when visibility is a little less than clear (stubbed toes while wading seems to hurt worse…), and the whole sandal is lined with neoprene for comfort. These sandals are reviewed very well, and they are functional both on the trail and in the water.
Pros
Designed with guides in mind, these sandals are perfect for wet wading
The quality materials used in these sandals mean they are durable and more than suitable for all-day use.
Simms guarantee is rock solid
Cons
There are problems with the overall construction of these sandals occasionally
The higher price tag is comparable to the price of quality wading boots
Features/Specifications:
Sizes 7-17, Some Half Sizes
Bungee Lacing System
Supportive, Contoured Arch
Metatarsal Ridge
Razor Siping for Improved Traction
The H2 Water Shoe from Keen is a great hybrid trail and stream shoe from this established company. These shoes run a little small, so take advantage of the half sizes that are available and size up.
The bungee lacing system allows for the ideal fit and the ergonomically contoured arch provides a stable footing and comfort for all-day use. The tread and traction are superb on these, and reviewers stand by these products on that feature alone.
Reliable, functional treads can mean the difference between a successful day of fishing and a badly rolled ankle, so Keen took this aspect of the Newport H2 very seriously. They dry off super fast and are machine washable.
Pros
Keen has spared no expense in making these shoes work just as well on land as they do in the water. Kayakers fly fishers, and hikers alike highly approve.
Superior grip and tread, lightweight
Superior toe protection.
Affordable
Cons
There were some customer reports of low-quality control on these shoes, making the occasional manufacturer's errors a reality
Features/Specifications:
Sizes 7-14, and sizes 16 &17 (No Half Sizes)
EVA Foam Midsole
Rugged Durabrasion Rubber Outsole
Hook and Loop Closure
Fast Drying
This is another Teva product that made the Best Overall list, and the Hurricanes are another lightweight sandal option that excels in and out of the water.
This model of sandal doesn't have a toe protector, so take those low-visibility wades with caution. However, the rest of the features on this sandal are on-par with the others in this section of the review.
Fast-drying, machine washable, and with a comfortable and durable EVA foam midsole, these sandals are great at walking the line between hiking sandals and wet-wading shoes.
Pros
Good price
Lightweight
Fast Drying, Comfortable EVA Foam
Cons
The lack of toe protection
There were some negative reviews about the manufacturer's errors here again
---
Best Waterproof Sandals for the Money
Fishing sandals can vary in price. Here are two options to get your feet wet, while staying economical.
Features/Specifications:
Sizes 7-12 with Limited Half Sizes
Waterproof and Quick Drying
Protective Toe Cap
Non-Slip Hiking Sole
Hook and Loop Closure
These waterproof sandals from Camel Crown have enough features at a modest price point that they stand out as a great option for those of us who've never owned a pair and want to see what they're all about.
Waterproof and quick-drying, these sandals do have a protective toe cap, which I would designate as a necessity for the newbie. These sandals check a lot of boxes for what fly fishers need out of a pair of water shoes, and at a reasonable price.
Highly recommended to get your feet wet (please excuse this pun).
Pros
Affordable
Well ventilated, Waterproof
Lightweight, with good tread
Cons
The one recurring complaint from people who purchased these sandals was with the fit. They fit big around the ankle
Features/Specifications:
Sizes 4-11, No Half sizes
Flex Groove Outsole
Quick Drying
Versatile and Lightweight
I was unaware that Crocs made any other footwear outside of their distinct foam shoe that I still see in use on kayaks and in kitchens alike. The Swiftwater Wave is a ventilated nylon water shoe designed for hybrid environments.
It provides stable footing both on the trail and when wet wading. The main drawback to this affordable and comfortable shoe is the fact that sand, silt, and grit come in, with no decent way to get it out.
If you've never had to walk barefoot over river grit, it's awful and can lead to blisters and infection. With that said, this shoe seems to work better on land and could be a decent option as a backup when you need to get out of your waders and build a fire, rank wood, or when engaged in other camp activities.
Pros
Lightweight and fast-drying
Comfortable
Very affordable
Cons
There are negative reviews concerning debris not being able to vent out of this shoe properly
---
Best Fishing Flip Flops
These options might not be the best when wet-wading, but having a nice pair of flip flops after taking off your waders or for use on the dock or boat can be a nice luxury.
Features/Specifications:
Size 8-14, No Half Sizes
Shock Absorbent Material
Razor Siped Gum Rubber Outsole
Grunden's Lifetime Warranty
The Deck Boss Sandals from Grunden's are a heavy-duty, shock-absorbent offering made in collaboration with SeaDek Marine Products.
They are razor-siped and were designed with traction and comfort in mind. The price point is reasonable and they fit true to size.
Pros
Great quality and great price
Comfortable, with good traction
Works well in wet conditions
Cons
While these sandals are reviewed well, multiple customers have remarked that these things stink after multiple uses
Features/Specifications:
Sizes 7-14, No Half Sizes
Hydrophobic Construction Material
Neoprene Upper Lining
EVA Footbed
Siped Outsole for Traction
The Downshore flip flops from Simms are well-reviewed whether you're wet wading or just pulling off your wading boots after a particularly long soak.
Neoprene and nylon combine to provide a comfortable open-toe sandal with great traction on and off the water. Despite a slightly higher price tag, Simms knows fishing and these are a great offering from a company that knows fly fishing.
Pros
Lightweight, with hydrophobic materials used in construction
Surprisingly effective traction when used for wet wading
Cons
There aren't many cons to these effective, functional sandals other than a higher price tag
---
What to Look for in a Pair of Fishing Sandals
I know many anglers that avoid sandals altogether in their outdoor activities, and if they do crawl out of their wading boots, it's into a nice pair of moccasins or sneakers. However, I do enjoy wet wading when the Summer gets blisteringly hot, and for that, a good pair of sandals comes in extremely handy.
When looking for a pair of fishing sandals that's right for you, ask yourself where and how you'll be using them. If you plan on using them for wet wading and also on the hike in and out, consider something with toe protection.
I've waded in Wal-Mart flip flops before, and I have the scars all over my feet to show it. Toe protection, in my opinion, is extremely necessary for those of us engaged solely in wet wading.
However, if your aim is to find some footwear that can handle light camp work and provide you a chance to air out your feet and get out of your waders and neoprenes, an open-toe sandal will certainly suffice.
Here, the sole of the sandal becomes extremely important. You want the best traction you can get, and a sole that is both forgiving on your feet and able to handle the inevitable thorn, fly, or fish hook that may cross your path.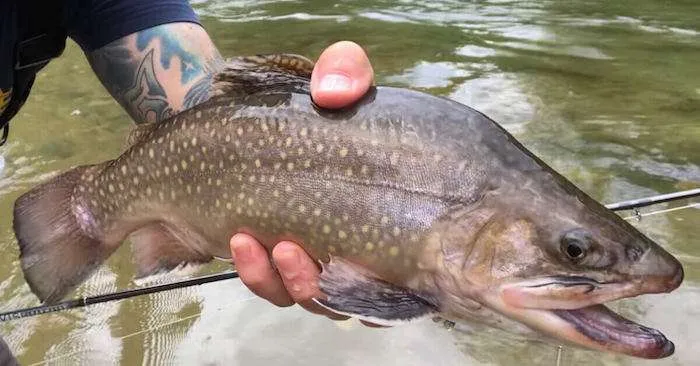 The Difference in Fishing Sandals
Closed-toe sandals provide protection from river rocks, debris, and other obstacles, and also can provide a comfortable fit that's more like a light sneaker.
They are breathable, and honestly, the peace of mind that comes with having a toe cap often makes for better-wet wade. These types of sandals also provide protection from thorns and other problems on land, and on the hike in.
Flip Flops are open-toed and airy, light, and classic. They can provide great relief from trying to navigate camp tasks in your waders (and possibly damaging them by gathering wood, starting a fire, or improperly ashing your cigar).
Fishing sandals should have great traction and grip, whether you're in ankle-deep water or knee-high weeds.
Slides are flip flops that secure to the top of your foot (with velcro, hook and loop closure, etc) keeping your toes free. I've fished in cheap slides, and they are great at venting debris, but they wear out quickly and need to be replaced when you go the cheap route.
Frequently Asked Questions
Q: I already have wading boots, do I really need fishing shoes?
A: That depends on how you fish. When I fish, it is normally 6+ hours, and sometimes includes ultralight camping and hiking. For me, getting out of my wading boots is necessary, both for my feet and to preserve my waders.
Far too many times was I too engaged in setting up a place to sleep for the night to catch that early morning rise and wound up damaging my neoprenes in some way. If you're engaged in day-longs, a pair of sandals can come in super handy.
Q: What is the most important aspect of finding a good fishing shoe or sandal?
A: I find a toe cap to be of extreme importance, especially for wet wading. If you think a stubbed toe in your kitchen is excruciating (and embarrassing), I assure you, that coming into contact with a rogue stone in murky water while wet wading is a whole new type of horrible.
Second to this would be reliable, sturdy traction. Traction is a must. Avoid falls at all costs because you can't fly fish in the hospital.
Conclusion/Reeling It In
Fishing sandals might seem superfluous to some, but to others, they are a great way to relax out of your waders, and air out your feet. Moisture and warmth are the enemy and can cause numerous problems for your Summer wading plans.
Traction and protection are important when trying to find a fishing sandal that's right for you, and there's no one right answer to what make or model is the best.
I hope this review has helped you to make an informed purchase, because Spring is here, and Summer is on its way. Consider trying out a pair of fishing sandals on your next extended stay fly fishing trip. Stay safe and tight lines!
Related Reading: