Get The Best Ice Chest For Your Budget!
If you're going fishing, chances are, you're going to want to bring food and drink with you. Nothing's better than the ice-cold beverage of your choice as you cool down in-between morning and evening fishing sessions. Every cold drink tastes better on a boat or around a campfire.
To get the most out of your fishing experience, you should have a cooler that fits your needs. The amount of coolers being made, with a variety of different body-types and intended uses, can be overwhelming. We're here to help.
We want you to get the most out of your fishing cooler. If done right, a new fishing cooler can be an investment that pays off every time you reach for food or drink.
In this guide we'll cover:
Large fishing coolers (Top 3)
Best kayak fishing cooler
Best small fishing coolers
Best fishing cooler for the money

Best fishing cooler with wheels

What to look for in a fishing cooler?
Types of fishing coolers
And much more!
Let's get started!
Best Large Fishing Coolers
These are our top 3 picks for best overall fishing coolers. These hard-sided coolers will keep food and beverages cold even in the hottest of temperatures.
YETI has revolutionized the cooler industry, and their Tundra line is the driving force. This rotomolded cooler is virtually indestructible.
It's molded in the same way that kayaks are – resulting in seamless thick walls and a sturdy design.
The three inches of Yeti's PermaFrost Insulation will keep your ice solid. The Tundra is certified Bear-Resistant.
Features/Specs
Dimensions: 25.75" x 16.13" x 15.38"

Weight: 23 lbs

Material: Plastic, Polyurethane Foam

Volume: 45 Quarts

Capacity: 26 cans
The lid closes down with rubber T-Rex Lid Latches and comes standard with one dry goods basket. YETI advertises their coolers as "the cooler you've always wanted and the last one you'll ever need." The Tundra comes with a 5-year warranty.
YETI also has a bevy of accessories to allow you to personalize your cooler to suit your needs. These range from everything including lidtop seat cushions, rod holders, and dividers.
After YETI disrupted the cooler market, there have been a decent number of brands who have stepped in and offered rotomolded coolers at a lower price point.
RTIC has risen to the top of these challengers, and their 45 Quart Hard Cooler is a great option for similar performance at a lower price than the "brand name."
RTIC markets this cooler as "overbuilt, not overpriced."
Features/Specs
Dimensions: 27.09" x 17.52" x 16.89"

Material: Plastic, Polyurethane Foam

Volume: 5 options | 20 to 145 Quarts

Capacity: 45 quart = 26 cans
They've focused on making sure that their cooler holds up on the quality end, and it's separated them from the other competitors. The RTIC 45 has no-fail hinges and molded side handles and tie downs to make sure that it's easily transportable.
RTIC also offers accessories to complete your cooler in the form of baskets and cushions. With the money saved by choosing RTIC, you could set up a custom cooler that fits the needs of your drift boat, trailer, campsite, or any other usage.
Igloo's BMX line is the best blow-molded cooler on the market. It's built rugged and sturdy, but manages to be lighter due to the blow-molding.
The BMX's walls are insulated with extra-thick foam and will provide for five days of ice retention.
Igloo crafted ergonomic upgrades on the BMX; rubberized T-latches, swing-up side handles, and rubber grip touch points make this cooler comfortable to carry and easy to open and close.
Features/Specs
Dimensions: 26.57" x 16.93" x 16.93"

Weight: 16 lbs

Material: Plastic, Polyurethane Foam

Volume: 49 Liters
You can take it along in your drift boat or trailer, too. Tie-down points are built in as well as a stainless steel kick plate.
With a price point currently at $169, the BMX is a great way to get a high-performing, long-lasting cooler at an affordable price. You'll have money left over for drinks!
Best Kayak Fishing Coolers
When fishing from a kayak space is minimal and finding a cooler to stay cool and not take up too much space can be difficult. We found one kayak cooler that should meet the needs of any paddling angler. 
This convertible cooler bag is perfect for using on your kayak or anywhere in-between. It's shaped to fit easily and take up less space on your 'yak.
It's surprisingly heavy-duty to prevent leaks. Use it to pack lunch, drinks, or transport fish. It also comes with a set of adjustable shoulder straps and a drain plug for easy cleaning.
This is the best kayak fishing cooler we've seen on the market.
Features/Specs
Dimensions: 26 x 13 x 13 inches

Material: Polyester
Best Small Fishing Coolers
Backpack Cooler
Backpack coolers are perfect small fishing coolers. A superb way to keep & carry your food and drink on the move. Check out our best cooler backpack by YETI, below.
Carry a day's worth of drinks and food on your back, for you and your group, in style and absolute comfort.
The YETI Panga is sturdy – with a high-density, waterproof, puncture-resistant and submersible fabric. It'll keep things cold, with YETI's hydrolock zipper gear stays completely dry even if fully submersed.
The Panga also has a hitchpoint grid that allows you to attach different accessories – including bottle openers, dry bags, and anything else you can strap into place.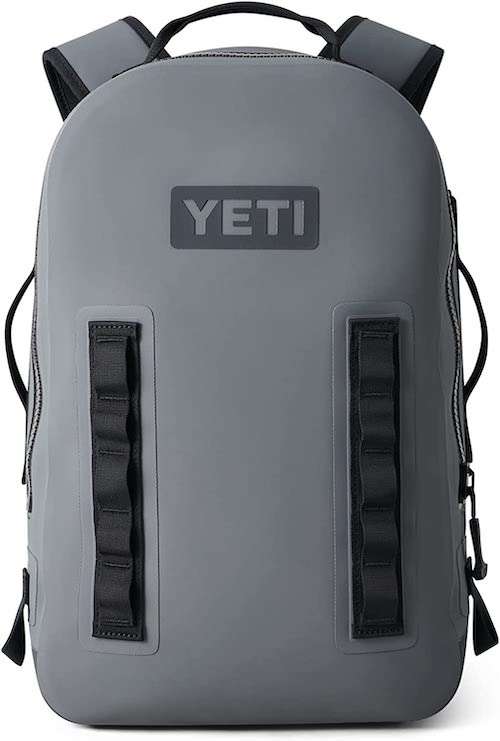 Features/Specs
Best Soft Fishing Cooler
Soft coolers don't always have the best reputation for staying cold, which is why we found one soft cooler that outperforms most of it's competitors. Another great small fishing cooler option for a day on the water!
RTIC has a great soft cooler offering. This soft cooler rides the line perfectly between being durable and mobile.
It holds up to 30 cans plus ice, and is leak-proof and puncture resistant. Side handles, top handles, and a shoulder strap make transportation easy.
The heavy-duty vinyl shell is sweat-proof, allowing you to let it ride in your car or truck with no worries. Whether you're packing lunch and drinks, or snacks and beers, this soft cooler will get the job done.
Features/Specs
Dimensions: 17.13" x 13.78" x 12.8"

Weight: 6.04 lbs

Capacity: 30 cans
Best Fishing Cooler For the Money
It is still possible to find durable and effective coolers but for a cheaper price. Check out this cooler if you're needing something a little lighter on the wallet. Incidentally, this is the best fishing cooler with wheels we have come across!
Coleman is a trusted name in the outdoors industry; they've been making coolers since the 1950s. Their 50 Qt wheeled cooler is a classic for good reason.
It's simple and gets the job done at a very reasonable price. With an ice retention period of 5 days and the ability to hold 85 cans with ice, this cooler is a good option for longer trips or camping excursions.
It comes with a tow handle and a pair of wheels to aid in transport.
Features/Specs
Dimensions: 22.5″ x 17.25″ x 17.25″

Weight: 12.75 lbs

Volume: 50 Quarts

Capacity: 85 cans
Coleman also has included four can holders on top of the lid, making this cooler a versatile piece to have around camp. For well under $100, this cooler is a great value that will last for years.
Other Gear Related Articles
What to look for in a fishing cooler?
Much like fly fishing rods, there are a lot of different fishing coolers that serve different types of purposes.
The first consideration you'll want to give while shopping for a cooler is what the main use for it will be?
Do you plan on going on multi-day trips on a boat or raft?
Will you need your cooler to be light and mobile to allow you to carry food and drinks as you hike?
Do you need something small for just yourself?
or are you trying to support a whole group's food and drink storage and transportation needs?
No matter what your intended uses, there are some important characteristics you'll want your cooler to have. You're going to want your fishing cooler to secure tightly.
If you're using your cooler for fishing purposes, no matter its size, it's a safe bet that you'll be moving it around here and there. Having a lid that can pop open, or a faulty or cheap zipper can be the difference between keeping everything cold for the duration of your outing or losing your food and drinks to heat.
This matters in everything from small, mobile soft fishing coolers to large hard-body fishing coolers.
Another consideration is the ice-rating. How long do the manufacturers advertise that the cooler will keep ice for? You'll want to plan accordingly as you purchase a fishing cooler.
Again, it all comes down to your most-often intended use. To help clear up the picture on which fishing cooler would be best for you, let's review all of the different types.
Types of fishing coolers
I'll run through the different types of fishing coolers, and suggest a use that might fit each cooler best. Keep in mind these aren't hard lines; you can use different coolers for multiple uses.
Here we go:
Hard-body roto molded coolers
These coolers, like the YETI Tunder 45 Cooler and the RTIC Hard Cooler are great options for multi-day uses. If you're often camping multiple nights, floating on a drift boat or raft, or carrying a good amount of food and/or drinks, this is the type of cooler you'll want to invest in.
Hard-body blow molded coolers
An alternative to their roto molded cousins, these coolers are good options for a lot of different uses. You can camp with these coolers, take them on fishing day trips, or use them for a day at the lake or beach.
If you're not planning on beating them up as much (for example, if you won't be using them as a long-term seat), options like the Igloo 52 qt BMX Cooler and the Coleman Wheeled Cooler are perfect.
Soft coolers
Soft coolers come in all shapes and sizes, and accordingly, can be used for a lot of things.
Generally, they're going to be good fits for daylong fishing trips (think the RTIC Soft Cooler), on a small personal watercraft (think the Insulated Kayak Bag), or on hikes to mountain lakes or along the shoreline (think the YETI Hopper Soft Sided Cooler Backpack). 
Soft coolers are always handy. They're great for riding shotgun on road trips and can often be used interchangeably as lunch boxes. It's always a good idea to have one on hand!
Conclusion
As the outdoor industry has grown, especially recently, there are a lot of companies making specialized products. Coolers certainly fit this trend – which is a good thing.
As we all know, different anglers have different needs. Hopefully this review has helped you to discover some options that will fit your exact needs for a fishing cooler.
Related Reading: