Cold Weather, Colder Water
The temperatures are dropping here in Pennsylvania and most of the country, forcing many fly fishers inside to sit at the vise and plan for opening day.
Some of us, myself included, will continue to pursue trout where possible, and for most of us, to do this safely and comfortably, means a change of gear for the winter months.
Protecting your hands from wind, water and cold temperatures is a must to experience a successful day of fly fishing in the cold winter months.
Below you will find my reviews for quality cold weather fishing gloves, so that you can make an informed decision on this crucial piece of gear and, as always, buy with confidence.

In this article we'll cover:
Best overall cold weather fishing gloves
Best fishing gloves for the money
What to look for in cold weather fishing gloves
Proper trout handling in Winter
And much more!
Let's get started!
---
Best Overall Cold Weather Fishing Gloves
Simms is another one of those brands that pride themselves on quality designs and materials, and their Goretex ExStream Foldover Mitts are a fantastic example of their dedication to these values.
They come in a wide range of sizes, because a good fit is integral in a pair of gloves you're going to spend the whole day operating a fly rod in.
These gloves are waterproof (even the mitten is fleece-lined neoprene), and the Goretex used in the shell is super durable.

Features/Specs
Wide Range of Sizes (XSmall-XXLarge)

Waterproof GORE-TEX 2L Shell
GORE-Tex Infinium Stretch Fleece Palm
Stowable Fleece-Lined Neoprene Overmitt
StretchGasket Cuff, DryCuff Compatible
You've got Goretex in the palm too, and the cuff of these mitts stretch and seal around your wrist, keeping water out should you be unlucky enough to dunk your hands in stream water.
The cuff is compatible with Simms advanced line of DryCuff clothing, but as with the Orvis Pro gloves, these products are top quality on their own as well.
The Goretex Infinium Flex Gloves from Simms are full-finger gloves that use their advanced Infinium material to create slim, agile gloves that are designed for fly fishers.
The diagonal thumb, index and middle-finger openings allow you to tie small flies to thin tippet without forcing you to take the gloves off, which is both ingenious and functional.
One of the most frustrating activities when knee-deep in freezing water is trying to get new bugs onto your line, and the design of these gloves addresses that well.

Features/Specs
GORE-TEX Infinium Stretch Fleece
Single Seam Construction
Diagonal Thumb, Index and Middle-Finger Openings for Knot Tying
Touch-Tech Compatible Index Finger
The Goretex Infinium material used here is water resistant, not waterproof, but these gloves make up for that in sensitivity and impressive heat retention for their thin profile.
Infinium is breathable to reduce moisture accumulation, and people that reviewed these gloves also say that they dry quickly if submerged in water.
If agility and ease of knot-tying are features that you want in your winter gloves, I recommend these.
Best Fishing Gloves for the money
These Glacier Gloves by Ice Bay are an affordable answer to keeping your hands warm and protected while engaged in outdoor activities.
Neoprene is a material that should be familiar to most fishermen for its waterproof characteristics, and the neoprene used to construct these gloves is outfitted with Ice Bay's textured Sharkskin grip material that allows for a firm grasp on rod butts and fly boxes, even when wet.
These gloves are 100% waterproof, but unlike the Simms products reviewed above, the cuff does not have a gasket on it to keep it from filling with water.

Features/Specs
100% Waterproof
2MM Fleece-Lined Neoprene
Textured Sharkskin Grip
No-Seam Palm
Some owners of the Glacier Gloves remedied this problem with rubber bands or hair-ties around the cuff in their reviews. Besides this issue, there's not much to complain about with a $16.50 price tag.
Palmyth has offered up a functional and affordable pair of gloves with a very interesting design to allow for delicate knot-tying and tippet work.
These gloves are made of a water resistant fleece, and they convert to a 3-cut glove by way of 12 separate magnets sewed into the thumb, index, and middle finger portion.
These magnets are strong, but removing a finger-portion to snap a photo of a big brown or to tie a midge onto the dropper is easy and less frustrating than having to remove the entire glove itself.

Features/Specs
Full-Finger Gloves Convert to a 3-Cut Glove
Pull-Away Magnetic Construction Eliminates Clumsy Buttons and Velcro
Wind and Water Resistant Fleece Construction
Silicone Grips
The only remarkable complaints about Palmyth's Magnetic Fleece Fishing Gloves was some catching and friction when used in the 3-cut style while stripping streamers.
I think that at the relatively low price of $19.98, they are worth checking out to alleviate some of the stress of tying knots and threading flies onto tippet.
Goture's contribution to this review is a solid and affordable pair of fishing gloves that are both waterproof and durable.
They are listed as multi-purpose gloves for skiing and biking despite the name, and are made out of several materials, the main one being neoprene.
These gloves have a touchscreen reactive blend of leather on the index and thumb tip, allowing you access to your phone while wearing them, but they also fold back when you need to use an exposed digit.

Features/Specs
3M Neoprene Construction
Flip-Back Index and Thumb Openings
Touchscreen Reactive Thumb and Index Fingertip
Silicone Palm Grips
Hook and Loop Closure
Hook and loop closures on the wrist cuffs keep water out and heat in.
People that reviewed the Goture's were mostly ice fishers, and while I could see these gloves performing well in combination with the small, flexible jigging rods used for that type of angling, I do envision some possible friction when stripping streamers in with a fly rod.
This is mostly due to how the index and thumb portion fold back on top of the glove. Despite this, the Goture's are warm, waterproof, and affordable at $22.99.
These gloves combine many of the more favorable features of the other brands in this review together to create a novel and functional cold weather fishing glove.
They are waterproof, windproof, and warm even in extremely cold conditions. People that purchased these gloves were quick to mention how effective they were even when repeatedly submerged in fresh and saltwater.
They sacrifice nothing in terms of warmth when the outer poly-fleece shell is wet, and there's no bleed-through to your palm.

Features/Specs
Waterproof and Windproof 4 Layer Construction
40 Grams of 3M Thinsulate Insulation
Converts From Mittens to Fingerless Gloves
One Handed Loop for Ease of Removal
Magnetic Clasp for Thumb and Finger Flaps
The PolarBlast's are convertible, and the mitten portion folds back and is affixed to the back of the glove with neodymium magnets. They are strong and hold the flaps down flat to keep them out of the way when doing fine work, even when wet.
These gloves have glowing reviews in regards to their durability, and for the money, I would recommend these in particular. The only thing they're missing is a pocket for a hand warmer.
---
Other Gear Related Articles
---
What to Look For in Cold Weather Fly Fishing Gloves
Fly Fishing requires agile and dexterous hands and fingers, particularly when tying small nymphs and midges to tippet.
As the temperatures drop, unprotected extremities become clumsy, and attaching nymphs to your line can be a nightmare.
A quality pair of fishing gloves can combat this, and keep stray water droplets off the back of your hands as well. November winds are already blowing, and they can be as detrimental to your hands as freezing water.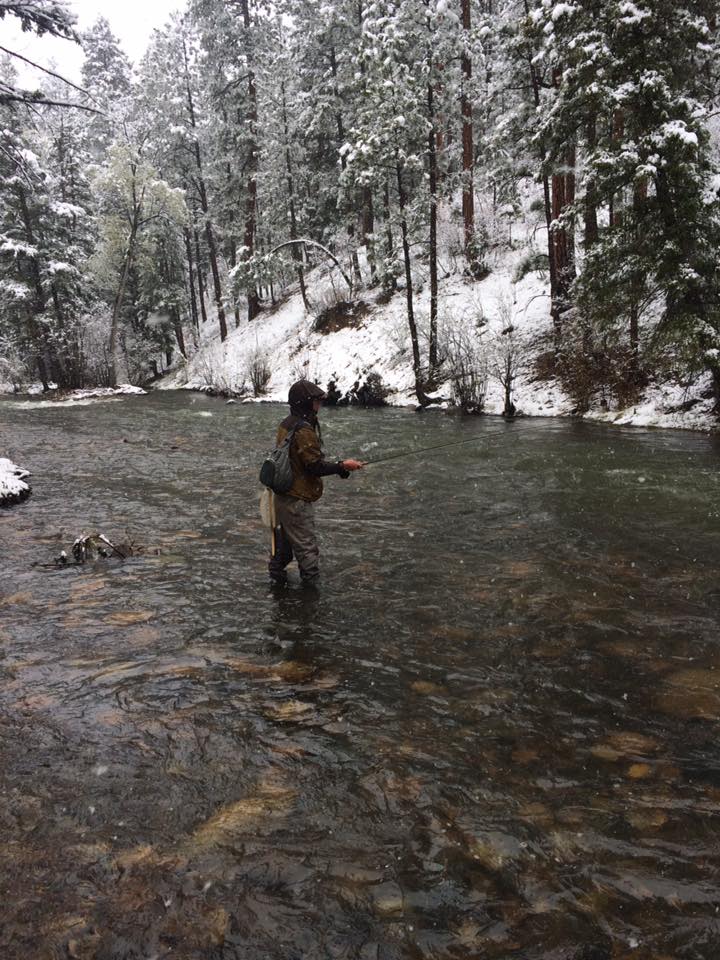 Ideally, you should be able to strip, reel, and cast while wearing your cold weather fishing gloves, but not all gloves are sensitive or thin enough to accomplish this.
The convertible mittens reviewed above provide a good synthesis of warmth and dexterity, but I have always been more of a fan of a thinner, full-finger glove for fly fishing applications, like the Simms Gore-Tex Infinium Flex Gloves.
Keeping your hands up and out of the water requires a little extra precaution but is possible with practice, and I opt for water-resistant gloves as opposed to waterproof ones because they tend to be thinner and more sensitive.
Proper Trout Handling In Winter
If you're lucky enough to hook up with a trout in cold weather, please do your part to ensure a good release with a bare hand (not gloved). The research is pretty definitive at this point that trout need to stay wet, and the coating of slime they produce around their body protects them from infection and disease.
Using a glove to handle a hooked trout, yes, even most tailing gloves, scrapes this slime coating off, causing unnecessary stress on the fish. When fishing at this time of the year, lose the glove when you handle and release the trout.
Please do your part to protect the well-being of the beasts we all appreciate so much, and handle them with care. The adrenaline rush of coming into contact with a trout in the winter is usually enough for me to ignore the cold and guarantee a seamless and safe release of my prey.
Don't worry, your hands will warm up eventually, and no one said fly fishing in the winter was easy work!!
Conclusion/Reeling it in
When I started fishing in the winter, my "cold weather fishing gloves" consisted of several pairs of cheap cotton full-finger gloves that I would snip short for knots and fly application, and change out as they got wet and cold.
This is a hassle and on more than one occasion a glove would end up floating down the stream due to my own error, or I would spend many exasperated minutes out on the water trying to extricate a fly from the cotton material.
The gloves reviewed here are well made for fly fishing and simplify the hurdles that a cold weather fisherman faces while angling at a time of the year when many are more concerned with deer or resigned to stay indoors until Spring.
Protect your hands well this year, frostbite is a very real and serious possibility when outdoors in cold temperatures, especially when water is added to the mix.
Related Readings: