Bigger Fish to Fry
Trout may be my particular obsession but there is great sport and fun in pursuing bigger fish in bigger water. 8 weight reels are on the menu for this review, and I'm going to do a deep dive into both the highest-rated and the most economical reels on the market today.
These reels can facilitate bigger, heavier line weights, for bigger heavier fish. These reels walk the line between freshwater and saltwater and work just as well on muskie as they do on redfish on the flats.
Join me as I dissect some of the best 8-weight reels out there, so you can as always, buy with confidence.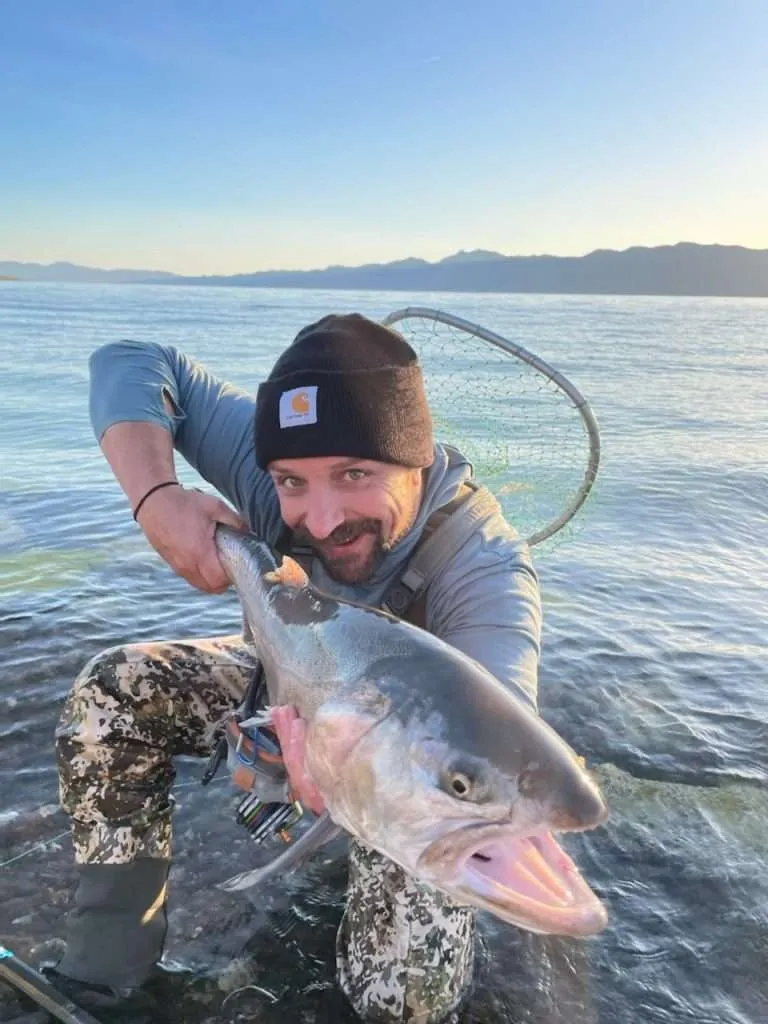 This review will cover:
Best 8 weight fly reels (overall)

8wt saltwater fly reel selection

Best 8 weight fly reels for the money
Uses for 8 weight fly reels
What to look for when buying an 8 wt fly reel
Frequently asked questions

How much backing on my 8wt fly reel?

And much more!
Let's get started!
---
Best 8 Weight Fly Reels (Overall)
We have selected the top 8 wt fly reels currently on the market. These reels, although a little pricier, are worth every penny as they outmatch their competition in quality and versatility.
Quick Note: Saltwater vs Freshwater reel —> Any quality reel can be used for both saltwater and freshwater, however all of your gear should be cleaned in freshwater after you fish saltwater. Ensure your reel is anodized to assist in preventing corrosion. If you are primarily using your 8 wt reel for saltwater double check that the reel you are looking to get is saltwater safe (has a sealed drag and is anodized). Explore or guide for best saltwater reels here.
Specifications:
Proprietary Carbon Fiber/Alloy Construction
5.9 Oz Total Weight
WF8 + 115 Yds 20# Backing Capacity
4.3" Diameter
Carbon Fiber Disc Drag
340 Degree Color-coded Drag Regulator
Captive Spool Release system
Large Arbor
Hardy knows fly fishing, and as touted in their numerous advertisements, "Hardy fly gear is for those who require the finest and will not settle for anything else." This is one of the first Hardy reels to incorporate their new proprietary carbon fiber/alloy construction, and this material is incredibly light.
The carbon fiber disc drag allows you to fine-tune your reel to match the muscle of what fish you're after, be it bass or bonefish. While this reel was designed for freshwater, it is used on the flats by some, just remember to clean it after each use.
The drag knob is easy to read and easy to use, and the captive spool release system will allow you to switch outline for whatever fish you're pursuing, and the arbor on this is large, which is a bit uncommon for Hardy.
This is a fantastic example of modern engineering and attention to detail, and I've come to expect nothing less from this incredible company.
Pros
Very light 5.9 Oz weight for a reel that facilitates this line weight.
Carbon fiber disc drag is advanced and useful for bigger fish
Cons
Some customers remarked that the reel knob was very small and took substantial getting used to use effectively.
The price of this reel is high, like all Hardy products, and a bit intimidating
Our pick for best 8wt saltwater fly reel
Specifications:
Anodized Aluminum
4.6 Oz Total Weight
.95" Width
3.80" Diameter
WF8F + 250 Yds 20# Backing Capacity
Conical Spring Washer Drag System
Super Large Arbor
The 'Power' fly reel series from TFO is big, beefy, and powerful. TFO is a company I am glad to say I'm familiar with, and their 8wt fly reel offering is more than suitable for salmon, steelhead, and more.
Fully anodized and generously ported to keep the weight down, this reel is light but sacrifices nothing in power for it. The reel holds a ton of backing and the arbor here is very large. The drag system is unique here, and instead of discs uses a series of conical spring washers to regulate drag pressure.
Whether you're after those big anadromous fish or saltwater monsters, this reel is up to the task and is a great offering from Temple Fork Outfitters.
Pros
Powerful and lightweight
Holds a generous amount of line and backing
Unique drag system
Cons
Temple Fork is great at offering economical options for fishermen in search of gear that won't break the bank, but this reel is expensive
Specifications:
High-Grade Anodized 6061 Aluminum Construction
7.6 Oz Total Weight
1.25" Width
4" Diameter
WF8F + 200 Yds 20# Backing Capacity
Saltwater Safe
Proprietary Torque Drag System
This is the second Galvin reel that I have had the pleasure to review here at Anchor Fly, and again this company has produced a quality product that is both luxurious and supremely functional.
The 'Torque' series of reels from Galvan was an attempt to provide a more substantial drag system while still remaining impeccably aesthetically pleasing. This is a heavier reel at 7.6 Oz and sports the 'Torque' drag system from Galvan, with happy customers claiming they have over 50 bonefish on this reel.
Galvan hit a home run with this reel and although it is expensive, it is a great synthesis of aesthetic appeal and powerful, durable performance.
Pros
Supremely durable, this reel was built to be used in the harshest of conditions.
Powerful and able to work effectively in saltwater as well as freshwater for larger fish
Aesthetically appealing design, with generous porting that, is pleasing to the eye.
Cons
This reel is expensive, there's no denying that, but Galvan produces quality, award-winning products, and they are worth considering if you're in the market for something different.
Specifications:
Machined 6061 High-Grade Aluminum Construction
4.06" Diameter
1.18" Width
6.35 Oz Total Weight
V-Cut Spool for High Capacity
Carbon Disc Drag
Needle Bearings on a Chrome Alloy Spindle
Large Arbor
Risen Fly is a company that I became acquainted with a year ago, through their fly hooks. I have bought from this company many times, and they provide quality hooks at a good price. The Gideon reel by Risen mirrors these values.
High-grade aluminum combines with an advanced disc drag system to create a powerful, durable reel at an affordable price. This reel is light, but not the lightest in this review. Still, it's not excessively heavy, and the needle bearings on a hard chromed spindle mean effortless retrieval of the large arbor.
This is a great offering from a newer company that is quickly making a name for itself in the world of fly tackle. Check this out!
Pros
A realistic price for a reel that is as advanced and durable as this.
Carbon disc drag is powerful and advanced, especially at this price point.
Cons
Outside of some rogue manufacturer's errors that Risen was quick to correct, I have yet to see anything overtly negative about this reel, so it's a good choice if you're in the market for one.
Best 8 Weight Fly Reels for the Money
Specifications:
Die-Cast Aluminum Construction
4" Diameter
7.5 Oz Total Weight
Carbon Fiber Drag System
WF ⅞ + 200 Yds 20# Backing Capacity
Large Arbor
V Cut Spool for High Line Capacity
Redington does what it does best again here, with a reliable and powerful reel that sports one of the strongest drag systems in its class. The 'Behemoth' from Redington is a ⅞ weight reel, that can accommodate both 7 wt and 8wt lines.
The V-Cut spool allows this large arbor reel to have a hefty line capacity while keeping the weight down. The carbon fiber drag system sports a hefty max drag, making this reel a saltwater favorite, but just as effective for big freshwater fish too.
Redington has centered this reel around this powerful drag system, and the proof is in the pictures, with many satisfied customers posting impressive saltwater catches to Redington's social media account. Redington approaches this reel the same way they do many of their other products, with performance and price as the focal point.
Pros
Solid reel with a powerful drag that makes it easier to get those trophies to the net
High line capacity to accommodate long fights with powerful fish
Economical
Cons
The few negative reviews I found about this reel had to do with light tippet protection, or a lack thereof. However, I must say that a super light tippet is usually a no go with higher line weights. There were also a few manufacturer errors, specifically with friction against the reel cage.
Specifications:
Hard-Anodized Aluminum Construction
3.74" Diameter
1.18" Width
6.4 Oz Total Weight
WF7F + 125 Yds 20# Backing
V-Cut Spool and Large Arbor
Rulon Disc Drag
Maxxon is another company that's new to me, but they seem to have a loyal fanbase that is centered around their affordable products and their stellar customer service. This reel sports many attributes similar to reels that cost three times as much, with a light 6.4 oz total weight and a powerful Rulon disc drag.
Keep in mind this is a ⅞ setup, so the rating included here as far as capacity goes is for a 7wt line, although you can size up to 8 wt if you're willing to take a hit to the max capacity of backing available here.
With satisfied customers all over the web, this reel gets the job done at a price that won't make you weep, and it's definitely worth a look.
Pros
Supremely affordable
Good drag coupled with a durable anodized aluminum construction makes this very durable for the price.
V-Cut Spool and large arbor make line retrieval easy and fast
Cons
Outside of some machining problems (sticky handles, friction on the cage there are not many negative reviews of this product, and at this price, that's impressive.
Specifications:
Aluminum Alloy Construction
4.5" Diameter
1.35" Width
8.8 Oz Total Weight
WF9 + 200 Yds 20# Backing Capacity
Saltwater Safe PIT-STOP Drag System
Here's another offering from Echo, a Rajeff Sports brand. This rod was intended for the salt, and this reel is rated for a 9 wt line.
The drag system is a sealed carbon disc type, which Echo has branded as "maintenance-free." It is heavier than most of the above-reviewed reels at almost 9 ounces, but again, it's rated for a heavier line so this is sort of a necessary evil.
With a high backing capacity and a tough aluminum alloy construction, this is a great saltwater choice for whatever you may be targeting, and it carries the Echo lifetime limited warranty.
Pros
Heavy-duty, durable, and made for saltwater and all the harsh conditions that entail.
Sealed drag to keep salt and other debris out
Cons
Some consider 8.8 ounces heavy, but this is a saltwater reel, and they usually are heavier than reels designated for just freshwater
Some people have had problems with Echo customer service, and the warranty doesn't cover much outside of specific manufacturer's errors.
---
Uses for an 8wt Fly Reel
Fly reels of the 8wt category are big, beefy, powerful, and always sport a large arbor for a high capacity of both fly line and backing. This amount of backing is necessary for long fights with big fish, and while it may be overkill for some freshwater applications, you'll need it when pursuing prey in saltwater, as the massive long runs of bonefish, sheepshead, reds, and other salty piscine quarries can spool less equipped fly reels quickly.
Still, don't count these reels out for freshwater use. Muskie and pike are known for sudden, powerful, and protracted runs and digs as well, and having the backing necessary to maintain contact is often the deciding factor of whether you'll be able to bring them to the net or not.
8wt reels also usually possess advanced drag systems, so you can turn up the pressure on fish that are powerful enough to play the angler. Advanced drag systems can get expensive quickly, and sealed drag systems even more so. However, a sealed drag is important especially when you are saltwater fishing because salt can make quick work of even expensive reels.
How to Choose an 8wt Fly Reel
This line weight is versatile because it can be used effectively in both salt and freshwater. That being said, assess what type of fishing you'll be doing with the reel first. If you intend on using your reel primarily for freshwater, but occasionally taking it on those trips to the beach, consider a sealed drag system.
A sealed drag system only makes your reel more durable and more resistant to the damage saltwater can do. Don't forget to properly maintain your reel if you're using it in salty conditions. This means rinsing it, and the fly line and backing after each use. It'll save you frustration and money.
If you know that you'll only be using your 8wt in freshwater, a sealed drag system is not as necessary. Capacity, however, still is. Opting for a larger line capacity will give you a better chance at catching bigger fish, not to mention the incredible fight that comes with this. Large arbors are always important because those super long casts need a quick and powerful retrieve to match, so keep that in mind while you shop.
Frequently Asked Questions
Q: How much backing on my 8wt fly reel?
A: I usually spool up as much backing as my 8wt reel will take. Depending on the manufacturer this is likely anywhere from 150 to 250 yards of backing.
Q: What is the difference between an 8wt reel and a 7/8wt reel?
A: The difference here is in the fly line and backing capacity. A 7/8wt reel is rated for both line weights but can be loaded with either. The only sacrifice that comes with loading a heavier fly line on these reels is in the amount of backing that the reel can hold. A heavier fly line means that you won't be able to fit quite as much backing on the reel.
Q: These reels seem primarily made for big saltwater fish, is it worth it to buy and fish an 8wt if I only fish freshwater?
A: I would say yes! But with an 8wt, you'll be better equipped for fish other than trout. Carp, bass, and especially salmon all call for heavier line, leader, and tippet, and you'll need a reel to match. 8wt reels have a lot of freshwater applications and can throw bigger weighted streamers while also performing effectively in wind and rain.
Q: Are sealed drag systems worth the money?
A: While I am not a saltwater fisherman myself, all signs point to yes if you fish those types of waters. There are many reviews about sealed drag systems, and most saltwater fishermen are moving in this direction for their fly reels.
So, I would definitely say that sealed drag systems are worth the extra money because of the relentless wear and tear that comes from fishing in the salt.
When I was getting into fly fishing, I was advised by the local fly shop that I could fish in pretty much any conditions with a 5wt for light-medium freshwater use, and an 8wt for heavy freshwater and intermediate saltwater use.
These two line weights are considered "do-alls" for many fly fishers. That being said, I have yet to get to the salt with a fly rod, but I do recognize the versatility of possessing just these two-line weights. They enable you to fish just about anywhere, in most conditions.
A reel to match the rod is integral when throwing big streamers, big surface poppers, and weighted flies, and a large arbor is critical for energetic, predatory fish that are a bit beefier than the run-of-the-mill ten-inch brown trout that are so common in my home waters.
If you're looking to expand your fly fishing horizons and target multiple different species, you'll need an 8wt reel to pair with that long, powerful 8wt rod. As always, tight lines, and be safe out there.
Related Readings: